What is Psychotherapy and What is Psychodynamic Psychotherapy?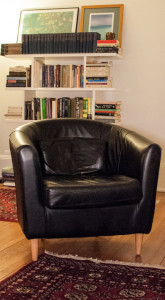 The term psychotherapy covers various forms of treatment for people who are experiencing challenges in their lives. Psychodynamic psychotherapy is a treatment developed from the psychoanalytic theoretical method. Psychotherapeutic sessions are usually offered on a weekly or biweekly basis while utilizing the chair; and the patient  and therapist see each other face-to-face.
Typically, the topics of psychotherapeutic exploration address various 'Why?' questions: Why is facing uncertainty so scary; why is it difficult to love and be loved; why does it seem impossible to attain financial stability; why is the notion of career advancement so dreadful; why is it such a struggle to say no to substances, situations, and relationships that make me feel bad; and why is it difficult to experience joy and happiness without feeling guilty? In some occasions, these 'Why? questions indicate internal conflicts that are better treated by psychoanalysis. If that is the case, psychoanalytic treatment might be suggested in order to offer the treatment that is best suited for the patient.
What is Couples Therapy?
Couples therapy helps couples who are experiencing a challenging moment in their relationship. As with individuals who seek psychoanalysis or psychotherapy, couples often try to understand the nature of their struggle on their own before seeking help. Therefore, seeking help from a therapist is a tremendously important step in overcoming the difficulty they are experiencing. Generally, the challenging moment occurs because the couple becomes aware that each person has entered the relationship with various unrealized and unspoken expectations. And, when they discover that their expectations are not being met, they wonder if it is a sign that they may have chosen a wrong partner, or if their relationship will not work out in the end. This is an example of negative thought, and interpreting their struggle in this way generates tremendous stress on the relationship. Couples therapy offers the chance to become aware of those expectations and see if they are realistically attainable. If they are attainable, then the therapist will guide the couples to help each other so that their expectations will be met. However, if they are not attainable, the therapist will help them work through their thoughts and feelings so that they can better understand how to approach each other with a different set of expectations that are realistically attainable.
It is often the case that when couples experience negative thoughts, the relationship encounters a halt. And without therapeutic intervention, they will continue to experience the relationship as stressful and painful. If there are internal conflicts that cannot be resolved in couples therapy alone, a recommendation for individual therapy might be offered, which addresses the unique struggle each of them is experiencing.
What is Group Therapy?
In group therapy members reflect on their personal experience while listening to others' narratives. In doing so, their understanding of their own personal struggles and challenges are brought to the conscious level. If they choose to share their stories, they will experience support and affirmation from others. The experience can then be an invaluable tool in sorting out challenging moments in their lives.